NB: Before engaging in pompous outrage and trolling, first ask yourself if you are genuinely saying that rape can never, ever, ever be a useful, good or well treated story element. Because that is really all this article says. That it should not be removed from the writer's toolbox.
Whether something is 'well done' or not is a subjective argument that can never be settled because tastes and sensitivities vary, but do you really mean that there should never, ever, ever be a story that includes rape, ever again? Can you honestly not tell the difference between fiction and reality? The difference between the advocacy of freedom of expression and advocacy of assault? Judging from the comments, many of you can't. That's far more worrying to me than the inclusion of rape in fiction.
If you agree that rape (and murder, and drugs, and torture and indeed anything else) can be used in stories, games and other materials successfully and should be judged on its merit, rather than its content, then you agree with me. The trick is to read further than the title.
***
Well, there's a title that has to be one of the most crass pieces of link bait I've ever written. Still I think that will actually help me make some of the point I'm going to try and make here.
The 'sexism/misogny/rape culture/all men are bastards' argument has been raging in ever increasing intensity over most of the things that I enjoy and like. Cinema, comics, fantasy art, role-playing games and computer games. I'm pretty much done taking the abuse and the offensive presumptions that go into these arguments without arguing back at this point, because I don't want the argument to be entirely in the hands of censorious bullies.
This will mean I'll get a lot of flak and misrepresentation (check, see comments and 'rebuttals') but what the fuck, it goes with the territory and as well as being a writer and game designer I'm a skeptic and thus the sort of chap who demands claims be backed up with evidence. I'm not prepared to take spurious claims about 'rape culture' etc at face value without something substantive to back them up.
Leaving that aside for the moment, some of the accusations frequently levelled during these arguments are that using rape as a plot point is 'lazy writing' and that it somehow trivialises or normalises rape.
Is it lazy writing?
Well, honestly, at this point in human history every plot device and story has been used to death over and over again. There's whole genres that centre around murder and that's objectively worse than rape. Shakespeare said there were only seven kinds of story, Tolstoy said there were only two, I'm tempted to say there's only one and that's 'Shit happens'.
Rape is certainly some shit that can happen.
Writers reuse all sorts of plot elements and stories over and over again. A different amount of skill and different elements are mixed up but not every story has to be literary greatness, break new ground or be sensitive to each and every agenda out there.
As to rape?
Rape or attempted rape is a fucking awesome plot element, one of many.
Rape can place a character in jeopardy where the readers' care about what happens, without necessarily taking the character out of the story. It's a threat with implications, but not as final as death.
Rape can have interesting knock-on effects on a character's relationships and their relationships with each other. If it does happen how does the character's lover react? If their lover was the rapist, how do things change? Can you use this as a springboard to explore abusive relationships? Can love emerge from a violent encounter?
What if a pregnancy occurs from the rape? How hard is it for the character to endure that? What's the effect on the father? The child? Nature or nature? Bad seed? Does the mother resent the child? Are they given up? Do they mistreat them through seeing the rapist whenever they look at them?
How does the event change the people involved? Is the rapist remorseful? Does the victim hate themselves or grow stronger? Does it change how they're perceived? Can we use it as a springboard to examine the sexual culture in the story? Think about the differences in cultural reactions between, say, Arab/Muslim and Caucasian/Secular societies to rape even today. (Links added because someone played the racism card).
If we're writing erotica? Well, depending which study you read somewhere between thirty and fifty percent of women have rape fantasies. I've no idea what the figure is for men and studies are probably wildly off due to the danger of saying so. Forced sex, rough sex, transgressive sex? These things are all wildly popular though – as fantasy. Much more popular than they are to perpetrate 'for reals'.
There's more, but I think that amply shows that it needn't be lazy writing and as story material it goes right the way back to Greek myth. It's a story-making tool that should be available to you as a storyteller, great or small.
So, part two.
Does the existence of rape stories, even as a cheap jab to get someone's emotions involved, somehow trivialise or normalise rape?
I'm going to pin my colours to the mast pretty firmly on this one and say no it doesn't.
How can I assert that with such confidence?
Simply this. If rape were trivialised it would not have the power to move us, involve us and activate our emotions.
If we had become inured to it, it would not work to establish a character's evil credentials.
If it had become normalised it wouldn't serve its purpose in a narrative. It wouldn't be a big deal. It wouldn't upset the characters because it wouldn't upset us.
Ironically, the very fact that people get up in arms about a threat to Lara Croft in a video game, the rape of Daenerys' by Khal Drogo in GRRM's book and the resulting TV show or, fate help us, the existence of half-orcs in D&D, demonstrates that it is not trivial. It shows that it still has the power to shock and engage, to elicit the very reactions that make it attractive as a narrative element in the first place.
It also shows that no, it's not acceptable or trivialised any more than mass murder – also common in books, RPGs, films and games is. Hopefully the people making spurious rape culture arguments will end up in the same mirth-laden cultural waste-basket as Jack Chick, Fredric Wertham and Jack Thompson.
There is a follow-up article HERE.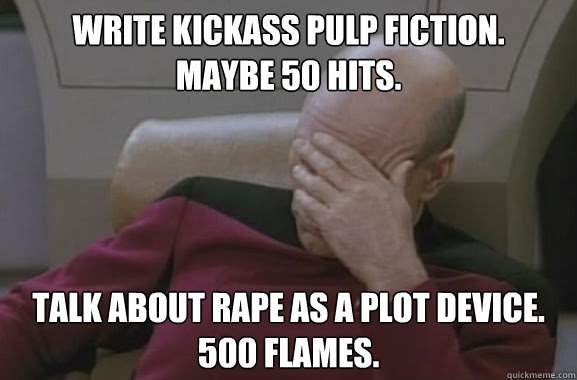 Edited: Additional preamble, slight clarification, links to follow-up article.